Zubair Aslam a.k.a JHARA Pahalwan, was the son of Aslam pahalwan who belonged to the renowned GAMA family of legendary wrestlers. He had to maintain the prosperity of his ancestors, and so he did by making his career in wrestling.
Zubair was trained under the supervision of different experts of wrestling, while Arshad Bijli was one of the trainers who trained him. He was only 16 years old, when he started his career in wrestling, and accordingly his height measured at 6.2 inches and total weight was almost 211 lbs.
Zubair worked hard and learnt every step of wrestling with devotion. He didn't leave anything to be called an inspiration of wrestling, following the footsteps of his father. JHARA was also entitled as the expert of 'mud wrestling', same as his chacha Bholu Pehalwan. His body was super active, flexible and strong similar to Bholu pehalwan.
During JHARA's first few years, he brawled his first wrestling challenge in opposition to Zawar Multani, and Multan was the place where the wrestling between the two wrestlers took place. JHARA pahalwan crushed Multani two times. He also took part in a number of free-style completions of wrestling which took place in Pakistan and other foreign countries. The most popular wrestling of JHARA pahalwan was when he fought against a Japanese wrestler named Antonio Inoki, and he took over Inoki remarkably. Antonio Inoki the Japanese wrestler was the one who crushed his Uncle Akram Pehlwan.
Jhara was truly declared as the champion of Pakistani wrestling of his time. He lived in the locality of Pir Makki, and so where JHARA's training centre was situated. Jhara pahalwan died on 11 September, 1991, at the age of 29 due to breakdown of his heart. There are many followers of JHARA pahalwaan, but we miss him a lot!




There was a time when being a Pehalwan was a way of life, an art and a passion.
Thousands of people used to watch Rustum-i-Pakistan which was a very popular event in Lahore (just like a one day cricket game these days). You could easily find many Ukhara's or Akhara's (kinda small stadiums where traditional wrestlers exercise) in the city with Pehalwans doing their routine exercises but not anymore.
I have some wonderful childhood memories of having Khalis Lassi (sorry folks, I don't know what Lassi is called in English but Khalis means Pure) near Pehalwani neighborhoods just behind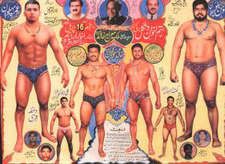 Lahore Fort
.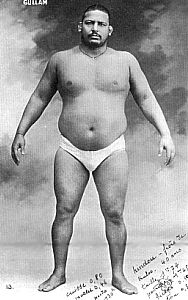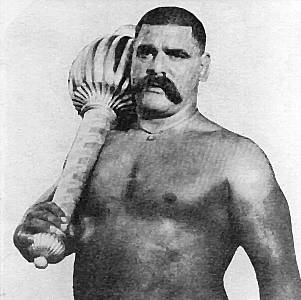 Going there once in a month with family for traditional
Lahori Nashta+Lassi
was just great. Not to mention some serious exercise was a must and we used to skip lunch after having that
Nashta+Lassi
. I don't know if the quality and taste is still the same, I haven't been there in ages which is sad.
Even today, if you ask any of your grandparents they would definitely tell you wonderful stories about the legendary
Gama Pehalwan
or
Imam Bux (Bukhsh) Pehalwan
or other world famous ambassadors of this beautiful sport (most recently the
Bholu brothers
:
Aslam, Akram, Goga
and
Azam
). People in their mid-twenties may still remember the grand event that took place many many years ago when a number of wrestlers (including
Hulk Hogan
,
The Mask Man
,
The Under-Taker
etc.) from all around the world came to Pakistan and we were entertained with
traditional Pehalwani vs Hollywood wrestlers
. I still remember
Jhara Pehalwan
vs Hollywood Hogan
:o) which Jhara won of course.
[ATP adds: For a generation before that it was the great Japanese wrestler Anoki who came to Lahore to wrestle, I think, Akram Pehalwan... I believe Anoki won, big time!]
Sadly,
the art of pehalwani has slowly been diminishing
in Lahore. Though I have had a chance to see
some healthy signs in Gujranwala
(Gujranwala is called the 'City of Pehalwans'). A serious effort is needed from people and the local government to revive this beautiful art/game in Lahore otherwise it's not that far when we will only be finding Pehalwani in history books.